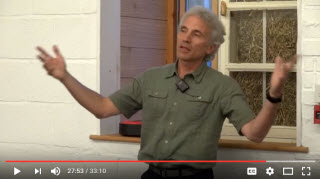 Source: DartingtonTV, Bill Plotkin – Soulcraft – YouTube.1
Bill Plotkin is a depth psychologist, wilderness guide, and founder of Animas Valley Institute. He is the author of Soulcraft, Nature and the Human soul, and Wild Mind. Bill Plotkin says that:1
When we are young …

Maybe when we are just like three years old,
we make a promise that we forgot,
we don't remember, that we ever made.

The promise we made was:

I agree not to sing in my true voice,
if I can get psychological and social safety
in exchange for that.

And, it's exactly the right promise
to make at that tender age.
If we don't make that promise
we're not going to survive …
We have to, it's part of being human.
We have to make that promise,
that I have to fit in culturally first.

I have to fit in into my family.
And if my family is not so healthy,
I'm going to have to put
a bigger lid on more of me.
But even if my family is healthy,
I'm going to have some lid
on embodying my true wild magnificance.

So, we make that promise, and …
at some point, we have to break it:

We have to agree that
we are going to speak in our true voice,
we are going to sing our true song.

And, through that we enter into
a conversation with the world …
where we discover …
(this is another phrase from David Whyte)
the largest conversation that
we can have with the world
in this lifetime.
Notes:
1 Creative Commons Attribution license (reuse allowed), DartingtonTV, Bill Plotkin – Soulcraft – YouTube (26:45–28:33), Published Oct 3, 2013 (accessed Apr 20, 2017).