This is a post in my series on organizing "between and beyond." Other posts are here. This is a retrospective of what has happened during the week. The purpose is to reflect on the work itself. Here is my previous retrospective.
What has happened? What needs to be done?
This is a retrospective, not only of the last week, but of the year.
Introduction
The series on organizing "between and beyond" started two and a half years ago, and is inspired by David Bohm and F. David Peat's notion of "the order between and beyond" in Science, Order, and Creativity. Here is my review of Bohm and Peat's book.

I think that we need to move "between and beyond" our traditional ways of organizing work. We need a major shift in how we perceive and organize work, and in how we relate to ourselves and others. Here is an overview of all the posts in the series.
Books
I use Goodreads and Twitter to keep track of my reading. I read 60 books this year.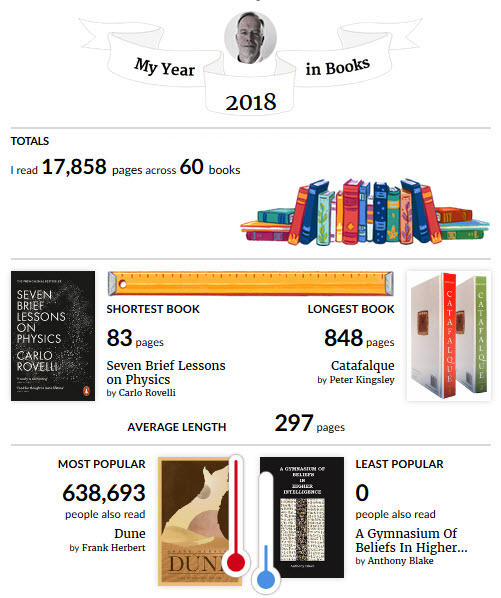 The shortest book was Seven Brief Lessons on Physics by Carlo Rovelli. The longest was Catafalque by Peter Kingsley. The most popular was Dune by Frank Herbert, and the least popular was A Gymnasium Of Beliefs In Higher Intelligence by Anthony Blake. I am apparently the only one on Goodreads who has read Blake's book. Anthony Blake studied physics and had many conversations with David Bohm. It's a thought-provoking book.
The highest rated book on Goodreads with 5.00 average was Biopoetics by Andreas Weber (@biopoetics). Actually, there's so far only one rating on Goodreads, and it's mine. It reminds me that I need to review Weber's book. I also like Andreas Weber's The Biology of Wonder: Aliveness, Feeling, and the Metamorphosis of Science very much.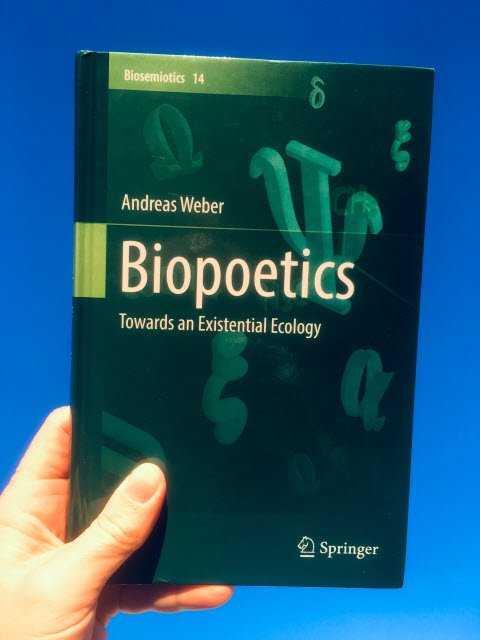 Andreas Weber sees enlivenement as a way to move beyond enlightenment, and acknowledges the deeply creative processes embodied in living organisms. Here is an essay by Andreas Weber on Enlivenment which was published by the Heinrich Böll Foundation in 2013. It was Emma Taylor (@generativeOD) who introduced Andreas Weber to me. Thanks Emma!
Other books which I read during the year and really like are:
The Supreme Art of Dialogue: Structures of Meaning by Anthony Blake. The structures of meaning emerge out of dialouge itself. Dialogue works with whatever arises in the moment. It requires being in sync with oneself and others. The critical issues is to be truly heard and seen, or there is no dialogue.
The Garden Awakening: Designs to Nurture Our Land and Ourselves by Mary Reynolds. This is a book about designing gardens that are radiant with life. Reyonlds' approach to garden design is as applicable to organizational design.
The Body Keeps the Score: Mind, Brain and Body in the Transformation of Trauma by Bessel van der Kolk. The only way we can change the way we feel is to become aware of our inner experience and felt sense.
The Silent Pulse: A Search for the Perfect Rhythm that Exists in Each of Us by George Leonard. There exists a silent pulse of perfect rhythm at the center of our lives. Every act has its own movements which can be suppressed only at the expense of what is spontaneous, and ultimately nourishing. Rhythm is fundamental to deeper generative organizing.
Kitchen Table Wisdom by Rachel Naomi Remen (@RachelRemen). When we reclaim who we are, we also remember our basic human qualities. Wholeness is never lost, only forgotten.
The "I" of the Beholder: A Guided Journey to the Essence of a Child by Annemarie Roeper. We cannot force a child to learn any more than we can force someone to eat. We need to create environments where we can flourish and thrive, rather than just adjusting to the demands of the system.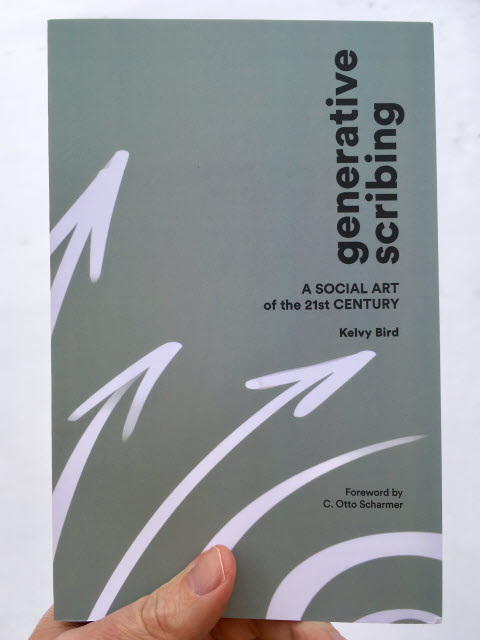 A book which I love is Kelvy Bird's (@kelvy_bird) Generative Scribing: A Social Art of the 21st Century. Kelvy Bird's writing and drawing resonates deeply with me. Her approach can be applied to other arts, crafts, and practices as well. Here is my review of Kelvy Bird's book. It's a gem.
Another author I'd like to mention is Stephen Harrod Buhner (@SBuhner). I read four of his books during the year. Buhner mentions, by the way, that the best general work on Goethe is by Henri Bortoft. And one of the best sources on Bortfoft, that I know of, is Simon Robinson's (@srerobinson) excellent blog and books, written together with Maria Moraes Robinson (@DoraMoraesR). Stephen Harrod Buhner is a very skilled writer. There's something more at the heart of writing, or any craft, than the mechanics of it. I warmly recommed Buhner's Ensouling Language: On the Art of Nonfiction and the Writer's Life. It reminds me I need to review Buhner's book too.
Two books I'd also like to mention are The One-Straw Revolution: An Introduction to Natural Farming, and Sowing Seeds in the Desert: Natural Farming, Global Restoration, and Ultimate Food Security by Masanobu Fukuoka with Larry Korn as translator. Fukuoka criticizes our willingness to reduce life to what is know about it, and to act on the assumption that what we don't know about life safely can be ignored. Here is a compilation of my tweets from my reading Masanobu Fukuoka's books.
A most interesting, but very demanding book to read, is Experiencing and the Creation of Meaning by Eugene Gendlin. This is a groundbreaking philosophical work. Gendlin examines felt experiencing and and the edge of awareness, where language emerges from non-language. Here is my review. Here is also my review of another of Gendlin's books, Focusing: How to Gain Direct Access to Your Body's Knowledge.
I see, by the way, interesting parallels between Eugene Gendlin and David Bohm. Bohm explores the nature of consciouness, with particular attention to thought. Gendlin explores experiencing, with an emphasis on the ability to think with the intricacy of the situation. Bohm proposes that there is order in all aspects of life. So does Gendlin, who describes nature as a responsive order. I think that Gendlin's experiencing and creation of meaning is a Bohmian soma-significant activity, which gives rise to further signa-somatic activity.
Another of my favorite authors is Harrison Owen. Owen is influenced by Peter Vaill, who, in turn, is influenced by Alan Watts. I have read Peter Vaill's Managing as a Performing Art: New Ideas for a World of Chaotic Change and Learning as a Way of Being. I have also read Alan Watts' Tao: The Watercourse Way. Peter Vaill makes an interesting comparison between Western vs. Taoist management. He quotes Watts, who discusses the Taoist principle of wu-wei ("nonaction"). There is not much emphasis in management on just being effective in the moment. Yet, about the only thing that one can be in the moment is wu-wei. Wu-wei is a way to access a deeper generative order for organizing.
Finally, I'd like to mention Margaret Wheatley. I read two of her books this year. One is, Walk Out Walk On: A Learning Journey into Communities Daring to Live the Future Now, which is written together with Deborah Frieze. The other is, Who Do We Choose to Be? Facing Reality, Claiming Leadership, Restoring Sanity. The books are full of deep insights on how to work together on what we care most about. Wheatley's intention is to bring an understanding so that we can do our work—wherever we are, whatever it is—in partnership with life.
Here is also an old, but excellent, article from 1996 on The Irresistible Future of Organizing by Margaret Wheatley and Myron Kellner-Rogers. Self-organization is not new. It just takes different eyes to see it. Structures are temporary. Leaders emerge in the moment. Organization is a process of continous organizing.
Book Reviews
I published the following book reviews during the year (the books in bold are mentioned above):
What was good? What can be improved?
Looking back, I found this "gold nugget" among my posts. It's a post on essential organizing principles for life, which is based on an excellent article by Skye Hirst (@autognomics). Skye Hirst identifies ten organizing processes and needs in her article.
At the beginning of the year I started writing short reflections. Here is an overview. It didn't turn out as expected. Many reflections were never written down and lost.Next year, I'll continue with my retrospectives and reflections. I have also started to use the hashtag #NoteToSelf on Twitter.
I find a great pleasure in reading, but I'm struggling with my own writing. There are several reasons for this: 1) It's hard work; 2) I feel vulnerable speaking in my own voice; and 3) the language is a challenge in itself. English is my second language.
This is why I've started a new series of posts on life in work / liv i arbetet in Swedish. It's a story about my journey searching for better, or more life-affirming, ways of working together. And since it's my personal story, I need to tell it in my native language. The journey continues!
Related posts:
Organizing in between and beyond posts