This is a post in my series on organizing "between and beyond." Other posts are here. This is a retrospective of what has happened during the week. The purpose is to reflect on the work itself. Here is my previous retrospective. Here is my next retrospective.
What has happened? What needs to be done?
This week, I've started writing poems – in English! I never thought it would happen since my native language is Swedish. Anyway, here is my first poem, and here is the second one. They are about pain, melancholy, and sadness. But also about love, connection, and life.
I'm currently working on my review of Artful Leadership by Michael Jones. I love the book! There are gems on almost every page.

I've also started reading a new book coming on Company-wide Agility with Beyond Budgeting, Open Space & Sociocracy by Jutta Eckstein and John Buck.1 It's an interesting read and enjoyable read. I fully agree with the authors that the "collision of values may be the biggest factor inhibiting companies ability to cope with our rapidly changing world."2 My personal view is that the "collision of values" goes very deep indeed. And I don't think the authors go deep enough into this at the moment, but the book is only 50% complete. There's also a collision of assumptions. I think it's important to make a clear distinction between machines and organisms. The notion of "living machines" is an oxymoron.3 Treating an organism as a machine is, well, deadening. Mechanistic thinking is ubiquitous. While Open Space emphasizes self-organization, Sociocracy really focuses on self-regulation.
Before Philosophy: The Intellectual Adventure Of Ancient Man by Henri Frankfort, H. A. Frankfort, J. A. Wilson, and T. Jacobsen.
The Future of Humanity: A Conversation by Jiddu Krishnamurti and David Bohm.
Reclaiming the Wild Soul: How Earth's Landscapes Restore Us to Wholeness by Mary Reinolds Thompson.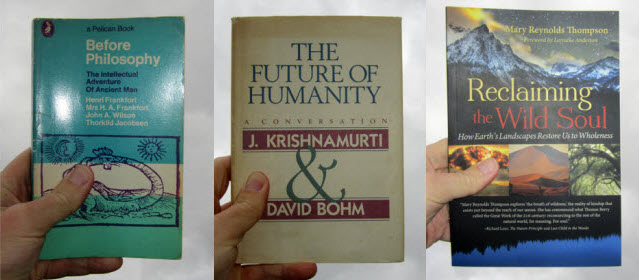 What was good? What can be improved?
Writing my first poem. I've also started drawing. I need to consciously nourish my creativity.
Notes:
1 Jutta Eckstein and John Buck, Company-wide Agility with Beyond Budgeting, Open Space & Sociocracy: Survive and Thrive Disruption (Leanpub). The book is 50% complete, (accessed 13 May 2017).
2 Ibid., p. 8.
3 Ibid., p. 6.
Related posts:
Organizing in between and beyond posts