This is a summary of what happened last week.
Painting
This is the second week in a row that I have not painted. So many other things have been going on.
Training
I attended a Lean Six Sigma Green Belt Training during the week. The focus in Lean Six Sigma is on removing waste and reducing variation. Lean Six Sigma was presented as a panacea, a cure-all. And still, one of the most frequent types of waste for me — interrupts — weren't even mentioned. Reducing variation is, furthermore, only possible for truly repetitive processes.
The teacher said, for example, that: "We don't expect creativity. You just need to execute." He used an airline flying people from A to B as one of the examples when no creativity is needed. And still, at another occasion, the teacher expressed his appreciation of Lufthansa's creativity when he was stuck at Heathrow due to snowfall.
My point is that the assumptions in Lean Six Sigma are valid, but only within narrow limits, when the situation is stable and there is a direct relationship between cause and effect. More often than not, we want people to be creative, and we have to live with variation (it's not always a bad thing).
Reading
I finished reading F. David Peat's The Philosopher's Stone during the week. I really like the book! Peat argues that the universe is endlessly complex and that its subtlety can never be explained fully by any theory. One of the goals of the book is to explore the deep connections between the innerness, or essence, of things and their outerness, or external apperance.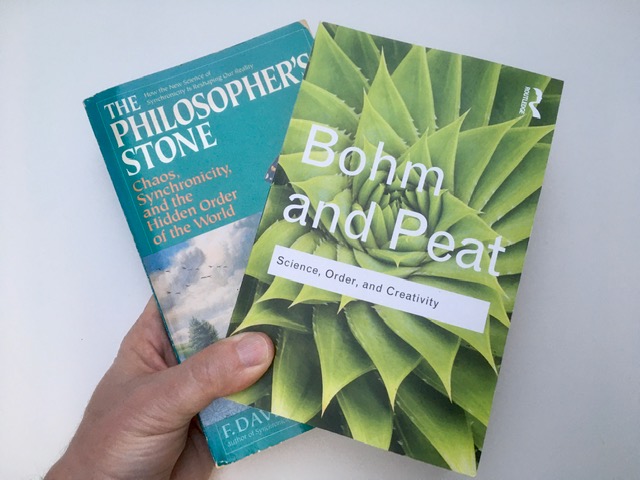 I started my series of posts on Organizing Between and Beyond after having read David Bohm and F. David Peat's Science, Order, and Creativity. Peat's notions of creative suspension and gentle action in The Philosopher's Stone are highly relevant to generative organizing. Gentle action is very different from the brute force used in traditional project management.
Now, I've started reading John Briggs and F. David Peat's book Seven Life Lessons of Chaos. I've also started reading New Seeds of Contemplation by Thomas Merton.
Microblogging
I mentioned last time that I've started microblogging to keep track of my reading. Tweeting is a form of microblogging, but my content stays at Twitter. I've been tweeting quotes from the books I read since 2012. Now, I've started to look into how to transfer the content at Twitter into my microblog. I basically want to recreate my reading history. It's going to be very useful in my own writing since it will give me access to all my reading at my fingertips.