This is a summary of my reading and painting this week.
Book
The Philosopher's Stone: Chaos, Synchronicity and the Hidden Order of the World by F. David Peat arrived this week. I have started reading the book and will come back with a review. Peat is one of my favorite authors. My series of posts on organizing between and beyond is inspired by his and David Bohm's notion of the order between and beyond in Science, Order, and Creativity.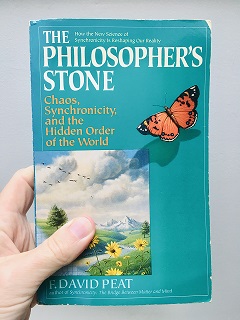 Articles
The following articles caught my interest during the week (my emphasis in bold):
Divine transports by Mark Vernon.
"…social activities create a kind of buzz that he called effervescence. Effervescence is generated when humans come together to make music or perform rituals, an experience that lingers when the ceremonies are over."
Positive Deviance – a ground-up approach to innovation by Jacqueline Conway (@DrJAConway).
"A positive deviance approach assumes that it is those closest to the work that are best placed to address and solve organisational problems. … It assumes that behaviour change in a system is best achieved through practice and doing without the aid of someone 'in charge' …"
Lyla June on the Forest as Farm by Trace L. Barnett.
"…I don't like the word sustainability. We're not just going to sustain ourselves; that's a low standard. I'm going for enhanceability. The ability to enhance wherever I walk. The ability to make it better than when I found it."
Zen and the Art of Seeing by Kees van Aalst.
"What we see isn't what we see, but who we are."
Paintings
I worked on following two paintings during the weekend. See Jan Höglund Art.