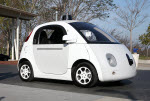 Self-driving cars are involved in twice as many accidents as ordinary cars1 because they always obey the law. People just don't expect anyone to actually follow all rules without exception.2
Notes:
1 Brandon Schoettle & Michael Sivak, A Preliminary Analysis of Real-World Crashes Involving
Self-Driving Vehicles, The University of Michigan Transportation Research Institute, October 2015.
2 Humans Are Slamming Into Driverless Cars and Exposing a Key Flaw, BloombergBusiness, December 18, 2015.