Inledning
Detta är en återblick på vad som hänt under veckan.
Jag hade tänkt skriva ett inlägg om levande grupper, men det blev av olika anledningar inte av. Får återkomma.
Axiom
Under veckan har jag forsatt läsa såväl böcker som artiklar av Stephen Harrod Buhner. Ensouling Language hör till mina favoriter. Bland Buhners artiklar hittade jag dessa axiom som är högst relevanta i arbetslivet (min översättning):
Axiom 1: Alla mänskliga system kan manipuleras.

Axiom 2: Ett verktyg är endast så bra som dess användare.
Mening
Under veckan hittade jag även en artikel av Simon Robinson (@srerobinson) som handlar om erfarenheten av att vara levande. Simon betonar vikten av mening. Vi behöver hitta mening i allt vi gör. Det gör det möjligt för oss att utvecklas och skapa. Simon citerar Joseph Campbell, som säger (min översättning):
Jag tror att det vi söker är erfarenheten av att vara levande, där våra fysiska livserfarenheter har en resonans med vårt innersta väsen och verkligheten, så att vi verkligen känner att vi lever.
Ledarskap
Jag hittade också en artikel i Forbes av Tomas Chamorro-Premuzic, som handlar om varför de flesta av våra ledare inte bara är män, utan även har ett negativt inflytande på sina team och efterföljare. Detta resulterar i lågt engagemang, förtroende och produktivitet, och höga nivåer av stress och utbrändhet. Att framhäva sig själv som ledare har inget att göra med att faktiskt ha förmågan att leda andra. De bästa ledarna föredrar att låta prestationerna tala för sig själva.
Detta påminde Leanne Stewart (@LeanneStewart) om följande (min översättning):
Om du måste tala om att du är en ledare så är chansen att du inte är det.
Känna & tänka
Ytterligare en artikel som fångade mitt intresse under veckan handlar om att en person har rätt till sina känslor. Att lyssna istället för att försöka fixa är, skriver Anastasia Pollock, mycket mer stödjande och helande. En person behöver ha möjlighet att göra sin egen röst hörd och ge uttryck för vad han eller hon känner och tänker.
Förändring
Under veckan "snubblade" jag även över en artikel i Expressen. Malte Persson har en förmåga att uttrycka sig som få. Vad sägs om?
…konservatismens förändringsmotstånd förändras i takt med andra förändringar…
Eller, när Malte Persson, som svar till andra debattörer, skriver?
Man kunde annars tänka sig att väljarna röstar på det de faktiskt vill ha och får. Att man åtminstone inte röstar på kaotiska bråkstakar just för att man vill ha lugn och ro.
Ja, det kan man ju tänka sig!
Malte Perssons senaste bok Till dikten finns nu i min lista över böcker att läsa.
Mönster
Under veckan hittade jag en video där Jenny Quillen berättar om historiken bakom Christopher Alexanders A Pattern Language och The Nature of Order, som handlar om hur man skapar levande miljöer — miljöer som har liv — där människor mår bra.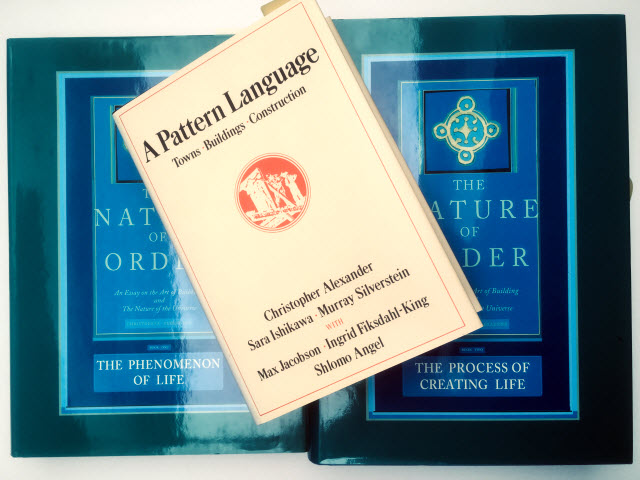 Jenny Quillen betonar att människor har en tendens att glömma bort att mönster (patterns) upptäcks. De skapas inte! När Christopher Alexander såg vad människor gjorde med mönstren blev han besviken över de mediokra resultaten. Han upptäckte att människor kunde förstå enstaka mönster, men att resultatet inte blev djupgående, och började fundera över vad han hade missat.
Christopher Alexander trodde att mönsterspråket (pattern language) var svaret, men det var det inte! Det gjorde att Christopher Alexander började om från början för att hitta svaret. Resultatet blev The Nature of Order. I The Nature of Order studerar Christopher Alexander meta-kvaliteterna i ett bra mönsterspråk och hur mönstren verkligen hänger ihop.
Processer
Till sist vill jag berätta om ett kort samtal som jag hade under veckan. Den person jag talade med berättade att man i produktionen hade upptäckt att det gick fortare och blev bättre om man inte följde processen. En vän av ordning skulle då påpeka att processen i så fall behöver uppdateras, men det är att missa poängen. Poängen (den första) är människor inte är robotar som slaviskt följer processen.
Vännen av ordning skulle då säga att då får man väl se till att människor följer processen. Det kallas processdisciplin och är något jag har personlig erfarenhet av — jag har till och med använt statistisk processkontroll på mig själv — men det är återigen att missa poängen. Poängen (den andra) är att processer är som mönster — de är inte Svaret (med stort S). Vilka är meta-kvaliteterna i bra arbetssätt?