CNBC reported Oct 31, 2022, that Elon Musk has pulled 50 Tesla employees into his Twitter takeover. Tesla employees have been involved in code reviews even though their skills do not overlap with the programming languages and systems Twitter uses. Tesla engineers don't have experience in designing and operating platforms that are broadly accessible to the public. Python is one of the preferred languages at Tesla, while Twitter programmers use Scala.
Managers at Twitter have instructed employees to work 12-hours per day, seven days a week, because Elon Musk has set so tight deadlines. Employees who do not achieve the deadlines will be fired. There is an atmosphere of fear and distrust. Twitter employees have stopped communicating with each other. Meanwhile, Elon Musk is looking for budgets to slash and people to fire.

Elon Musk doesn't seem to understand that managing like this comes with a big penalty. Grady Booch writes on Twitter Nov 1, 2022, that watching Elon Musk take over Twitter is like watching a software engineering case study on how to destroy a software-intensive business.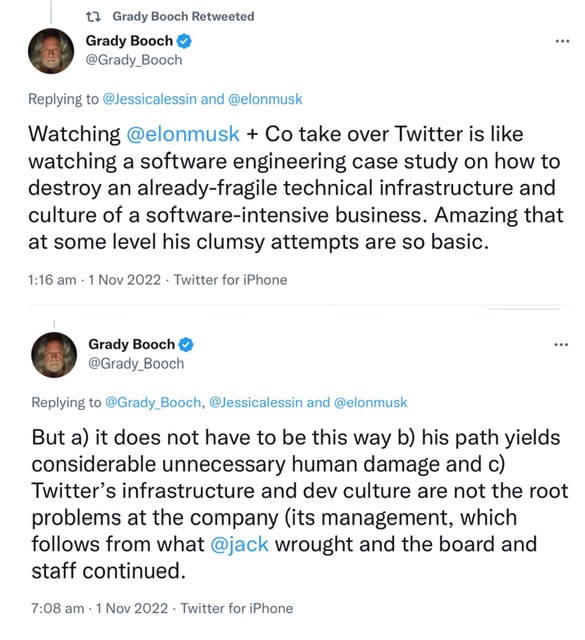 I don't understand why Elon Musk is actively destroying the company he bought for $44 billion. Is it because he is totally incompetent, or is it because he simply doesn't care about the human damage he causes? Maybe it's both? It does not have to be this way!