This is a post in my series on organizing "between and beyond." Other posts are here. This is a retrospective of what has happened during the week. The purpose is to reflect on the work itself. Here is my previous retrospective. Here is my next retrospective.
What has happened? What needs to be done?
Two new books arrived this week. The first one is Stealing Fire: How Silicon Valley, the NAVY SEALs, and Maverick Scientists Are Revolutionizing the Way We Live and Work by Steven Kotler & Jamie Wheal. The second is Beyond Being: Gadamer's Post-Platonic Hermeneutical Ontology by Brice R. Wachterhauser. Simon Robinson recommended the second book in this comment on my retrospective two weeks ago.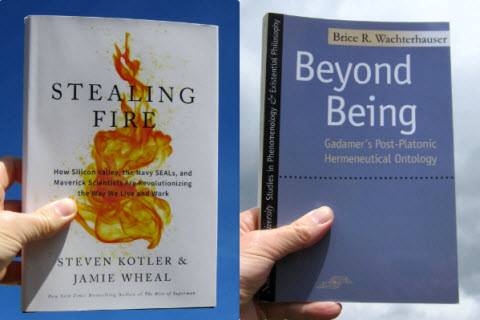 This week I've started reading Designing Regenerative Cultures by Daniel Christian Wahl, and Toward a Psychology of Awakening: Buddhism, Psychotherapy, and the Path of Personal and Spiritual Transformation by John Welwood. Both are excellent books! I will review both.
John Welwood's description of writing from a felt sense caught my attention. John explains how he approached the writing of his own book:
"In writing … I started with a diffuse felt sense of what I wanted to say, which I have to keep referring back to along the way. I can't know exactly what I want to say except by letting it unfold word by word, sentence by sentence. Each sentence leads to the next, which in turn builds on what has previously unfolded. At the end … I should have discovered the full range of my intent (although of course, there's always more)."1
At the end of last year, I mentioned in this retrospective that I have deep fears of revealing publicly my own ideas and beliefs. This fear has influenced how I've approached my writing. I've given expression to my voice through the voices of others. It has also prevented me from listening to my own diffuse felt sense of what I want to say. My approach has furthermore been analytical, that is I've tried to:
Get an overview of the parts, or organizing orders (here is an overview).
Understand what the parts do (here is the analysis).
Assemble the parts into an understanding (here is the synthesis).
The analytical approach has left me unsatisfied, because I already have a diffuse felt sense of what I want to say. And this felt sense goes beyond purely analytical understanding. Going forward, I'll shift my focus from gathering input — for example, by reading all these books — to letting what I want to say unfold word by word, post by post.
Finally, I found the following interviews with Basil Hiley, a long-time co-worker with David Bohm:
Here is a video where Basil Hiley discusses the Wholistic Universe. Basil Hiley starts by saying that "the world is basically organic, and the mechanistic part is just an aspect of the deeper organic part."
Here is a video where Basil Hiley discusses Bohm's Quantum theory and more.
What was good? What can be improved?
I really value feedback from others. This week I'd like to mention three persons:
Simon Robinson (@srerobinson) has provided valuable input and inspiration ever since I started this series – well, even before! Simon's book recommendations have always been excellent. Here are a few examples. Simon is co-author of this book on Holonomics.
Skye Hirst (@autognomics) and I have had ongoing conversations over Skype since February, sometimes several times per week. I've learned so much from Skye, not least personally! It feels like we've become close friends, although we've never met in person.
Marcus Kempe (@KempeMarcus) and I met for the first time in person this week. We've been following each other on Twitter for a few years. Marcus has started writing about unconscious beliefs and assumptions in Software Intensive Product Development.
Notes:
1 John Welwood, Toward a Psychology of Awakening (Shambala, 2002), p. 93.
Related posts:
Organizing in between and beyond posts